Our History
The South Carolina Area Health Education Consortium (South Carolina AHEC) began in 1972 as one of the 11 originally funded projects of the federal AHEC program. We function as a cooperative effort of the Medical University of South Carolina, the University of South Carolina, South Carolina community teaching hospitals, and regional AHEC Centers. We have successfully grown into a system that works closely with the state's institutions of higher education and other partners to educate, recruit, and retain healthcare providers. Today the South Carolina AHEC System consists of one program office, four regional AHEC centers, and eight AHEC-affiliated family medicine residency training programs.
How We Serve South Carolina
The South Carolina AHEC builds and supports the healthcare workforce South Carolina needs through a focus on recruiting, retaining, and educating healthcare professionals. South Carolina AHEC connects students and professionals with the tools, training, and resources necessary to provide quality healthcare, with a focus on primary care for rural and underserved communities. This is done through a variety of programs, starting with students in high school and progressing through college, health professions training programs, and graduate medical education. Then, once providers are practicing professionals, programs support the recruitment and retention of providers, as well as continuing professional development and access to education and other services via telehealth. Finally, the Office for Healthcare Workforce studies the healthcare workforce needs and trends to inform decision making.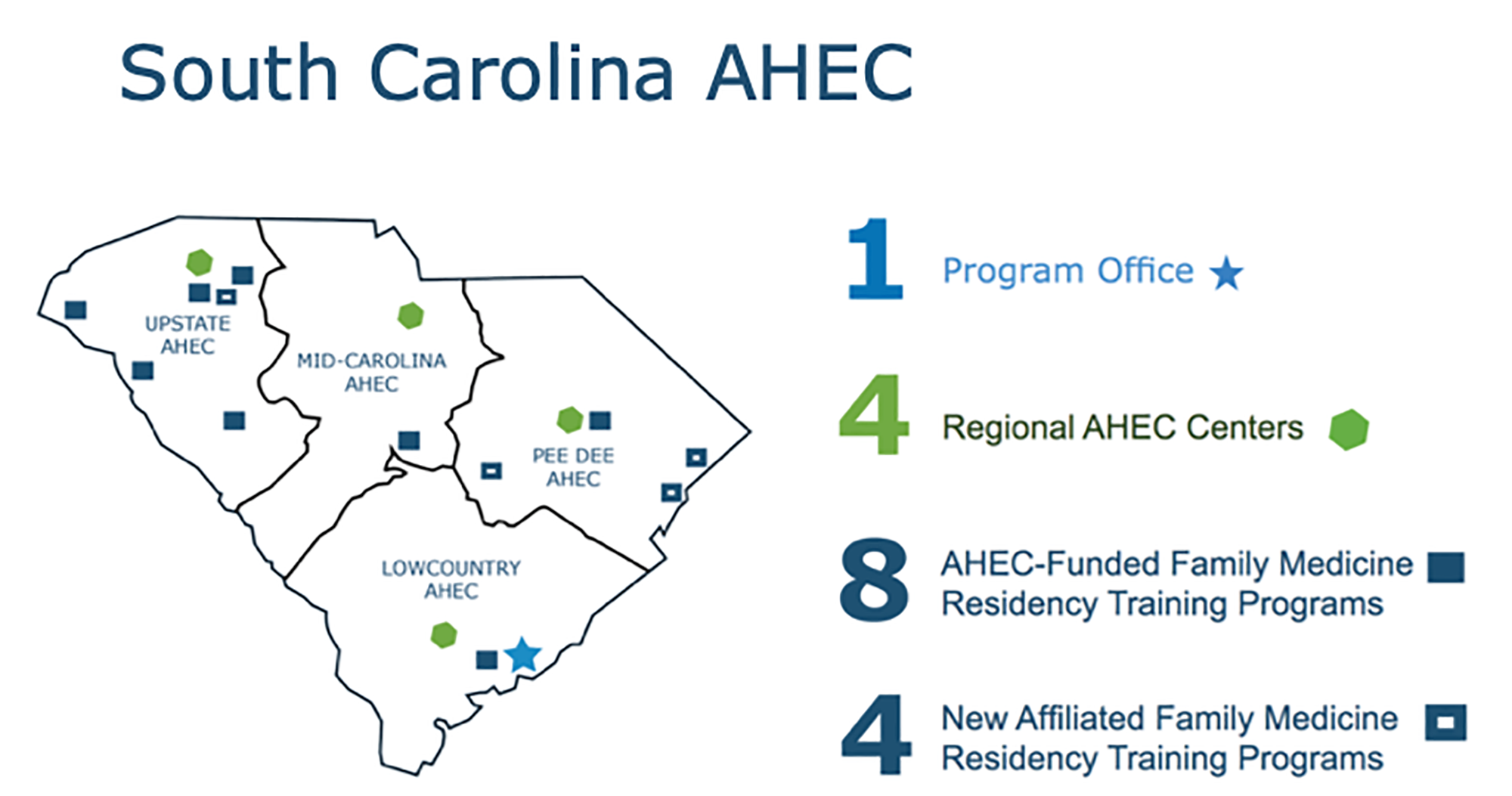 Our Regional Centers
The regional AHEC Centers provide services to healthcare providers and students in all counties of South Carolina.
Not sure which region you are located in? Use our Region Finder to locate your regional AHEC center.
Mission, Vision and Values
Our Mission
To achieve excellence in healthcare through recruitment, retention, and education of healthcare professionals.
Our Vision
To be a leader in building a collaborative educational system designed to optimize the health of South Carolinians.
Core Values
Excellence, Integrity, Effectiveness, Professionalism, Service, Efficiency