Health Careers Program
Connecting High School and College Students to Health Careers
About the Program
The South Carolina AHEC Health Careers Program (HCP) supports diverse groups of students on their paths to becoming healthcare professionals, building a future healthcare workforce that will reflect the diverse range of communities it serves in South Carolina.
Our Health Careers Programs strive to increase the number of students entering the health professions in South Carolina. Emphasis is placed on supporting underrepresented minority and disadvantaged students on their paths to careers in healthcare in order to address disparities in the healthcare workforce. Our programs are designed to provide students with academic preparation, skills development and career exploration to develop successful future healthcare professionals.
---
Health Careers Programs Last Year
24,583
Contact hours of programming delivered to high school & college students throughout the state
773
Students participated in HCP programming
57%
Of HCP students were from a rural area
54%
Of HCP students identified as Black, Indigenous and People of Color*
*Percent of total students for whom race/ethnicity data was available
---
Students & Parents
Are you thinking about a career in healthcare? Maybe you know exactly what you want to do but aren't sure how to get started? Or are you unsure about your career direction but just want to learn more?
Why participate in the Health Careers Program?
Discover your interests and what health careers align with them
Develop skills that help you in school now and the application process for future education programs
Learn more about the steps and requirements involved in obtaining a health career
Meet and network with current health professionals and health professions students
Learn more about public health, health disparities, and the healthcare needs of South Carolina communities
Explore health career options, learn more about education and training opportunities, and build the skills and knowledge needed to pursue your passion in the Health Careers Program. Browse student opportunities below.
---
Regional Health Careers Program Coordinators
Your regional HCP Coordinator is available to assist you in finding any additional information regarding your career of choice, community service projects, and internships or experiential experiences.
They are also eager to help you with:
Examining a variety of healthcare careers and understanding the type of work involved
Preparing for a selected health profession
Applying to undergraduate schools
And more!
Contact your regional coordinator today to get started!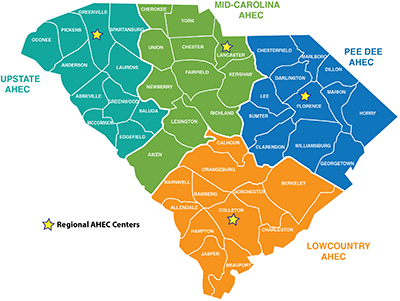 ---
Educators & Partners
The South Carolina AHEC Health Careers Program introduces students to health careers, supports their preparation for health professions education programs, and develops skills that help them succeed on their path to a health career.
Student benefits of the Health Careers Program
Introduction to and exploration of careers in healthcare
Networking, job shadowing and hands-on learning experience
Academic and career preparation
Soft skills (e.g., communication, problem-solving) development
Opportunities for Schools and Partners
Curriculum supplement and resource for educators
Support for students interested in health careers
Opportunities for student engagement, service learning and job shadowing
Develop our future healthcare workforce
Reach out to your regional AHEC coordinator or Paula M. Jones, Director of Health Careers Programs, for more information and to get involved.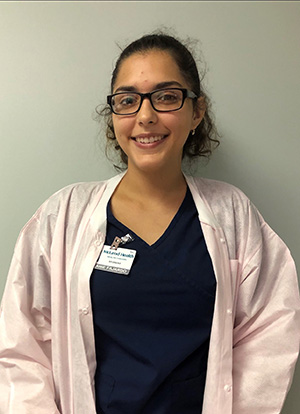 Student Today, Dentist Tomorrow
"I am grateful for AHEC because I want to know as much as I can about what to expect [in dental school]. I want to be ready. You guys have helped me feel prepared . . . [I want to] be an example to first generation Americans and one day own a practice that helps low income and disadvantaged communities."
---